Perinatal mental health services
One in five women will experience a mental health problem during their pregnancy and in the first year after birth, with depression and anxiety disorders being the most common.
As well as being crucial to new mothers, new-borns and their families, perinatal services can play an important role in ensuring mental health is integrated into overall healthcare at the earliest possible stage of life.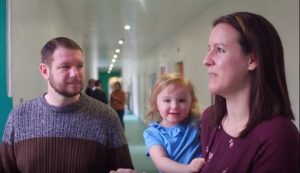 Joanne Bond experienced mental health problems following the birth of her second daughter, Summer.
"After the birth of my daughter I had severe postnatal depression and I even started to feel quite suicidal."
She was admitted to Florence House Mother and Baby Unit in Bournemouth.
"When I first went in I couldn't even care for Summer – I felt awful, but within a couple of weeks, I remember her staring at me and not having that dread, and even looking forward to the day. Slowly but surely I started enjoying life again."
After Joanne's recovery, she used her experience to help a successful bid for a new unit closer to her home in Devon.
"I always felt there was a bit of a stigma attached to being in a mental health unit; but actually, I look back and I feel proud of my journey. Mother and Baby Units can make a real difference. They are the right place to be for those who are unwell."
Read the full case study on the NHS England website.