Supporting people to live well with and beyond breast cancer
University Hospitals Plymouth NHS Trust work with a range of agencies to provide personalised follow-up care that aims to reduce the impact of cancer and its treatment on people's health and wellbeing. Felicity Farah, describes how this support has helped her following her diagnosis of breast cancer in March 2018.
The idea
The cancer team at University Hospitals Plymouth NHS Trust, recognised that providing personalised follow-up care, alongside access to a dedicated Breast Care Link Nurse or Breast Cancer Support Worker, could make a dramatic difference to the health and wellbeing of patients living with and beyond breast cancer. Working with a range of agencies, the team ensure that patients don't experience gaps in their care and support after their treatment has ended, by providing access to support which also enables them to self-manage their health and wellbeing.
The model
A Holistic Needs Assessment is completed at the beginning of every breast cancer patient's journey, and also at the end of treatment and other times when relevant or because the patient has requested one. The team use the assessment to look at every aspect of a patient's needs to identify the advice and support that they need to live better with and beyond cancer. This might include for example, a referral for counselling, mindfulness or a physical therapy assessment.
To guide and support patients throughout their diagnosis, care and follow-up period, patients have access to a dedicated Breast Cancer Link Nurse (provided through a partnership with the Primrose Foundation) and/or Breast Cancer Support Worker.
Patients are also encouraged to access the Mustard Tree Macmillan Centre. A wide-range of services are offered within a welcoming and relaxed environment to help patients to manage the physical, emotional and financial impacts of cancer. Examples of the services provided include information about treatment and late side-effects, financial advice and complementary therapies such as reflexology. The centre also provides drop-in and informal sessions to enable patients and their families to access peer-to-peer support and informal advice and support.
Every patient receives an invite to the trust's health and wellbeing events. These help patients to better understand their cancer as well as how and when to access clinical advice quickly during the follow-up period. Patients are also made aware of the ongoing support and information that is available through the trust and other agencies.
Patients who are recovering from cancer can access support to help them to safely return to exercise. The local university provides exercise classes developed specifically for cancer patients, Macmillan Cancer Support provide walking classes, and patients can also access reasonably priced swimming sessions at the trust's swimming pool.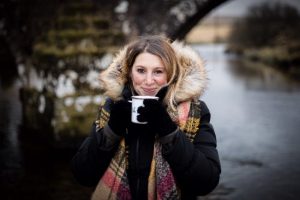 The patient's experience
Felicity Farah was diagnosed with breast cancer in March 2018. Her treatment has included surgery, radiotherapy, chemotherapy and hormone treatment.
"Everything changes when you get a diagnosis of cancer" explains Felicity. "I had to stop working, my husband has needed to be flexible with his work so that he can look after our children, who are 3 and 7, when I'm unable to. The impact on the family is massive – you try to be as 'normal' as possible for the kids. This year we had to cancel our family holiday, as I was too poorly to go."
"The Mustard Tree staff are really helpful in providing advice and information as I need it. It's also been helpful, along with the Look good session and online support groups, in enabling me to talk to other people with breast cancer, people who can provide advice or information from a real point of view. People who know what I'm going through."
Felicity has access to a dedicated Breast Care Nurse provided in partnership with the Primrose Foundation. "My nurse has been invaluable.  I find oncology appointments cold and clinical, but Rachel is warm. She's been there when I have had terrible news and made sure that I understood the information… in a motherly-kind of way."
Felicity has also attended a session given by the charity Look good feel better, to help people to manage the cosmetic side-effects of cancer treatment. "You are shown how to make the most of your face when you have no hair, no eyebrows. You don't feel like the best you, you can be, but you leave feeling quite nice and with a goody-bag of cosmetic samples that are safe for you to use."
Felicity is also interested in the complementary therapies that are available to help her manage to the longer-term impacts of her cancer treatment. "It's good to know that as I start my recovery that a range of complementary therapies and exercise support are available. These sessions will help me to feel better, cope better and feel less tired and more like myself."
Health professional quotes
"The most striking development and significant change over the last few years, has been the ability of the Cancer Nurse Specialist and Support Workers to undertake individualised Holistic Needs Assessments and Health and Wellbeing events, which really look at individualised packages of care for patients and families.

"Introducing health and wellbeing events is a big project we are now taking across all sites, to ensure that all patients have access to support to enable them to self-manage their health and wellbeing." Sian Dennison, Lead Cancer Nurse             
"The most rewarding part of my work is knowing that I'm making a difference to patients, at a very vulnerable part of their life, by being a consistent presence within their consultations and at the wellbeing event." Vanessa, Breast Cancer Support Worker
"My role came about because it was identified that for patients, their biggest concern was around finance. When a patient is diagnosed with cancer one of their biggest anxieties is how they are going to go through treatment in the knowledge that they'd have to stop working and their commitments still have to be met. I take a holistic approach to their whole family circumstances. I identify which route they need to go down, help them with any forms they need to complete and will continue to provide that service throughout their journey and beyond." Denise, Macmillan Financial Benefits Advisor
"As part of this we offer health and wellbeing support. Various events are open to patients at pre-surgery, pre-chemo/radiotherapy and after treatment when they've finished. These Health and Wellbeing events are run as a group event here at the Mustard Tree Macmillan Centre. They enable patients to ask questions about their treatment, it's an opportunity for them to meet others going through the same experiences. It also enables them to come into the Mustard Tree and be aware of the further support that is available." Rachel Wood, Breast Care Link Nurse