Posts by Suzanne Rastrick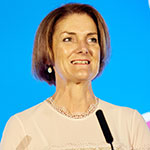 Suzanne Rastrick is Chief Allied Health Professions Officer, NHS England.
She qualified as an occupational therapist in Oxford in 1986, and began her career in the acute hospital sector, moving to practice in community and primary care where she then gained her first general management role.
Suzanne was one of the first allied health professionals to hold a substantive Director of Nursing post, and has since held these roles in both providing and commissioning organisations in the NHS. She has also been Chief Executive of a Primary Care Trust Cluster, and achieved authorisation for a large Clinical Commissioning Group with an integral commissioning support unit.
She has a Non-Executive portfolio in the commercial and not-for-profit housing sector, and sits on a number of national groups including NHS Employers Policy Board, Health Education England AHP Advisory Group, and England Centre for Practice Development National Advisory Board.
Suzanne was appointed as Chief Allied Health Professions Officer for NHS England on 1 September 2014. This role also has key professional leadership relationships to the Department of Health as well as to Health Education England.
Follow Suzanne on Twitter: @SuzanneRastrick