Posts by Professor Stephen Powis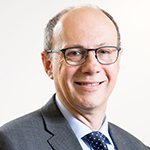 Professor Stephen Powis is the National Medical Director of NHS England and Professor of Renal Medicine at University College London.
Previously he was Medical Director, and latterly Group Chief Medical Officer, of the Royal Free London NHS Foundation Trust from 2006 to 2018. Professor Powis was also a member of the governing body of Merton Clinical Commissioning Group for five years and a Director of Healthcare Services Laboratories LLP.
He is a past Chairman of the Association of UK Universities (AUKUH) Medical Directors Group and has been a member of numerous national committees and working groups, including the Department of Health Strategic Education Funding Expert Group. He is a past non-executive director of the North Middlesex University Hospital NHS Trust, including a period of eight months as acting chairman.
Professor Powis is also a past chairman of the Joint Royal Colleges of Physicians Training Board (JRCPTB) Specialty Advisory Committee (SAC) for Renal Medicine and a former board member of Medical Education England. He was Director of Postgraduate Medical and Dental Education for UCLPartners from 2010-13. He is a past treasurer and trustee of the British Transplantation Society and a former member of the UK Transplant Kidney Pancreas Advisory Group.
He has also served as a member of the Renal Association Executive Committee and was Editor of the journal Nephron Clinical Practice from 2003 to 2008. In 2017 he became the inaugural Editor-in-Chief of the journal BMJ Leader. He has been a trustee of several charities, including the Royal Free Charity and the Healthcare Management Trust.