Posts by Mark Williams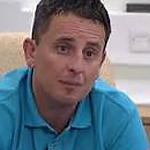 Mark Williams is a keynote speaker, author (Daddy Blues) and international campaigner. He founded International Fathers Mental Health Day and the #Howareyoudad campaign.
Mark has spoken on television and radio stations around the world and works with Dr Jane Hanley, publishing co-authored articles on Fathers Mental Health together.
He was awarded Inspirational father of the year and local hero at the Pride of Britain Awards in 2012 and was invited to meet the Royal Family on World Mental Health Day in 2016.
Twitter: @markwilliamsFMH