Posts by Kathryn Evans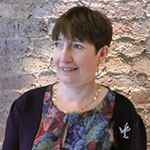 Kathryn Evans, Head of Planning Delivery and programme lead for the Hospital to Home (H2H) programme.
Kathryn is a nurse with over 25 years' experience of working in the NHS, both in Essex, Yorkshire and Humber and nationally. She has worked in a variety of roles. These have included being a District Nurse and then moving into professional leadership and service development.
Kathryn is an experienced operational manager. During her career she has managed a variety of community services from District Nursing and Community Matrons, GP practice, intermediate care wards and a Hospice.
She has worked at a regional level in service improvement and also in an assurance and delivery.
Nationally Kathryn has worked in the Nursing Directorate for NHS England, under the leadership of Professor Jane Cummings, Chief Nursing Officer for England as Community Nurse Lead.
She is now Head of Planning Delivery in the Hospital to Home team fostering collaborative relationships with key partners.
Kathryn is passionate about community nursing, and community services.