Posts by Joe Dent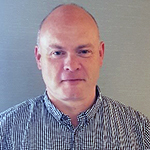 Joe Dent, MCPara, MSc Post grad Cert, BSc, is an Advanced Practitioner for Stroke, working at the Salford Royal Hospital. He is also Lead for Stroke at the College of Paramedics.
He has worked in healthcare for 28 years, 26 of those spent working for the ambulance service.
In his current role at Salford Royal, Joe is developing a training package for universities and ambulance trusts to improve education around pre-hospital identification and treatment of strokes.
Joe has an interest in data sharing and management and is a working party member and scientific member for the UK Stroke Forum.