Posts by James Sanderson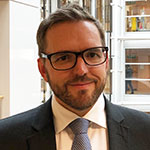 James Sanderson is the Director of Personalised Care at NHS England, working within the Strategy and Innovation Directorate to oversee the strategy and delivery for a range of programmes that are helping to empower people to have greater choice and control over their care. This includes the Personal Health Budgets programme, Integrated Personal Commissioning (IPC), Shared Decision Making, Person-Centred Care, Maternity Pioneers and developing and implementing new models of delivering patient choice.
James joined NHS England in November 2015, and was formerly Chief Executive and Accounting Officer for the Independent Living Fund (ILF). The ILF was used to support disabled people across the whole of the UK to live independent lives through the provision of direct payments enabling the purchase of personal assistance support.
After graduating, James embarked on a career in the private sector before joining the ILF in 2002 to undertake a number of senior roles including Operations Director with responsibility for front line service delivery, and Business Development Director with responsibility for performance development, change management and information governance.