Posts by Dr Neil Churchill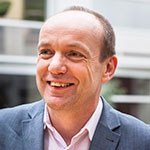 Dr Neil Churchill is Director for Experience, Participation and Equalities at NHS England.
His brief includes insight and feedback, patient participation in decision-making, improvement programmes on cancer, learning disability and support for carers and national partnerships with volunteers and the voluntary sector.
Neil joined NHS England in 2013 after a 25 year career in the voluntary sector at organisations including Barnardo's, Age Concern, Crisis and Asthma UK. He has been a Non-Executive Director for NHS South of England, an appointed member of the National Information Governance Board and a trustee of a number of charities across the UK.
Neil is a member of the Executive Board for the Beryl Institute, a change agent from the School for Change Agents and a member of Q, the quality improvement collaborative from the Health Foundation. He tweets as @neilgchurchill